X-Force, X-Men and all related characters are trademarked and
copyrighted 2002 by Marvel Characters Inc. All rights reserved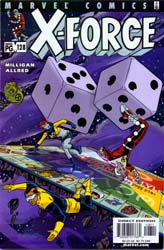 "Someone Dies"
written by Peter Milligan
art by Michael Allred
July 2002
$2.25USD/$3.75CDN
Short summary: What's the matter, can't read the title at the top of the screen? <sniff> Go away and leave me alone! <reaches for tissue> Don't you think that X-Force has been through enough? <blows nose>
Alright, alright. Either Guy, Edie, or Tike die in this issue. Happy now? <sniff>
---
---
After letting luck decide who of the three survives the rocketship to oblivion, the remaining characters are stuck with an impostor in their midst. This could get really ugly in a short amount of time.
Given that the impostor acts and looks exactly like the replacement bad-boy of the team, he has them completely fooled...that is, until the real one shows up.
Throwing several twists and turns into the mix, Milligan and Allred provide a good read, although ultimately frustrating as the readers have been provided more that sufficient forewarning as to the fact that ultimately, one of the three senior members won't be making it to the end of the issue alive.
At this point, the book becomes a little "too" clever for its own good. But, given the quality that the book has seen, it is forgivable this time.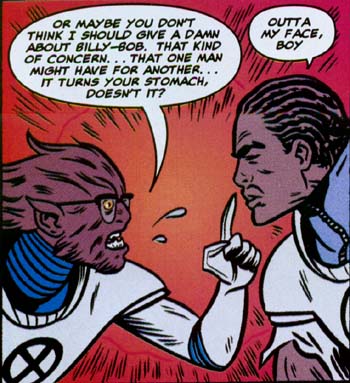 Despite his level of paranoia about the whole affair, Tike handles the entire possibility of dying unexpectedly with a surprising amount of restraint. For starters, he actually influence the odds of him being chosen to be the one left behind in the space ship hurtling towards oblivion, leaving Edie and Guy the only survivors.
What a surprise when Dead Girl actually finds a way to rescue him from the ship. Unfortunately, as the impostor is still among the team members (as the emergence of the real life Spike proves), it's still unsure as to who is going to be the one who doesn't walk away from the mission alive.
When all is said and done, two members are gone -- The Spike and....U Go Girl. The end is simply heart wrenching as Guy's girlfriend is now gone. This could lead to very unfortunate consequences as he has resumed his habit of playing Russian Roulette...