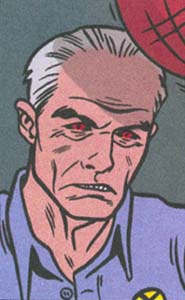 Real Name: Unrevealed
First appearance: X-Force #116
Last appearance: X-Force #120
Mutant Abilities: Undetermined
Formerly known as "The Arm", Coach is the mentor to the new X-Force, although it seems that he is more of a talent manager than an actual mentor. Cold and businesslike in his approach, his motives are kept hidden, much to the chagrin of the young mutants in his employ.
After trying to kill U-Go girl for attempting to stop him from killing The Orphan, she shot and killed him in self-defence.