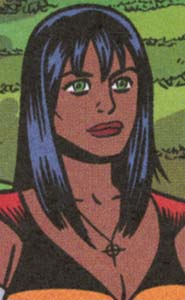 real name: Anna (last name unrevealed)
First Appearance: X-Force #117
Last Appearance: X-Force #119
Mutant Abilities: Telekinesis and healing powers
Similar to Storm of the X-Men, as her special abilities made her the subject of worship in her childhood. Apart from her mixed heritage and the scandalous circumstances of her birth, very little is known about her.

Saint Anna died from multiple gunshot wounds during the Paco Perez rescue mission.